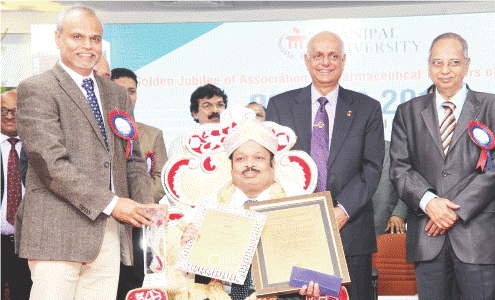 New delhi – 21st  Annual APTI National Convention was held at Manipal University, Manipal to mark the Golden Jubilee celebrations of the formation of Association of Pharmaceutical Teachers of India (APTI).  During the glittering inaugural session of this Convention, various Awards were conferred to outstanding Pharmacy Teachers of the nation. The most Prestigious Award Pharmacy Teacher of the Year -2016 Award  was conferred to Dr. Milind Parle, who  is working as a Professor of Pharmacology and Dean of the Faculty of Medical Sciences, at Guru Jambheshwar University of Science and Technology,Hisar. This Award was conferred at the hands of  Dr. Ramdas M. Pai, Chancellor, Manipal University, Manipal, Prof. C.K. Kokate, Vice Chancellor, KLE University, Belgaum, Dr. Mahesh Burande, President APTI,  Dr. B. P. Nagori, and Dr. Rajendra Bhambar, Vice-Presidents of  APTI,  Prof. B. G. Shivananda, Secretary APTI, Dr. Udupa, Convenor, APTICON-2016, Dr. Mallikarjuna Rao, Organizing Secretary along with newly elected APTI office bearers and other dignitaries.
APTI was formed by pioneers of Pharmacy Education way back in 1966 i) To  provide a common platform to the Pharmacy teachers of India, ii) To encourage Pharmacy Teachers of India for undertaking innovative professional practices, iii) To train Pharmacy professionals both clinically and technologically to face global challenges, iv) To enhance standards of Pharmacy Education throughout the country, and v) To promote excellence in Pharmaceutical Research. Dr. Milind Parle, commenced his research career as a Research Associate at Dept. of Pharm. Sciences, Panjab University, Chandigarh  after obtaining  his doctoral degree from Panjab University, way back in the year 1986.
Then,he moved to a Pharmacy college in the township of Harapanahalli in Karnataka state as a Principal of the college at the tender age of 29 years, where he worked for around 5 years. Then, he served as a Principal at Maharashtra College of Pharmacy, Nilanga, and at BLDEA University, Bijapur. In those days, Technical education in the country was under expansion and lot of private technical institutions were being launched in different states of the country. He was the first Pharmacist to get selected  in April 1994 at All India Council for Technical Education (AICTE), Ministry of Human Resource Development, New Delhi, as a Dy. Director in view of his vast administrative experience. He joined GJUS&T, Hisar in the year 1997, as a Reader, when the University was in infant stage and research culture was a distant dream. He has more than 300 research papers to his credit with over 2500 citations. He has an impressive h -index of 27 and i-10 index of 54 to his credit. Prof. Parle has filed Seven Patents  in the area of  Psychopharmacology.
Prof.  Parle was recently invited as a Plenary speaker by Malaysian Govt. to share his research experience at Mara University of Technology, Puncak  Alam, Malaysia. Earlier, he presented four research papers in 20th International Conference of Alzheimer's disease held at Kyoto (Japan) in 2004. He has more than 30 years of Post-PhD teaching, administrative and research experience to his credit. Prof. Parle was awarded Major Research Projects by University Grants Commission (UGC), All India Council for Technical Education, New Delhi, Department of Science and Technology (DST), New Delhi, and Indian Council of Medical Research (ICMR), New Delhi on "Discovery of Memory Enhancers and Benefits of Indian Systems of Medicine".
Presently he is pursuing active Clinical Research in collaboration senior neurologists and psychiatrists of Hisar at Shakti Neuro centre, Shanti Mission Hospital and Gupta Hospital, Hisar extending his promising research findings of animal studies to human patients. Dr. Parle has bagged several Awards back to back such as Best Pharmacy Teacher Award for the year 2015  conferred by Haryana state branch of APTI, during  Annual Conference held at M.D. University, Rohtak, and Eminent Educationist Award at Indo American Summit held on Sept. 13, 2016 in  New Delhi for his innovative ideas and exceptional contribution for the growth of  Pharmacy Education in India. Prof. Tankeshwar Kumar, Vice-Chancellor of Guru Jambheshwar University of Science & Technology, Hisar, Dr. Anil Pundir, Registrar and many senior teachers of G. J. University Hisar congratulated Dr. Milind Parle for glorifying  the name and fame of the parent University.
---