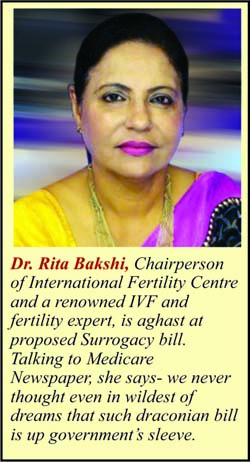 Booming 'rent a womb' biz will bedemolished in one fell swoop
Anand (bundles of joy) is where Mother and Milk is. But a spoilsport is prowling around to muddy this confluence. Surrogacy is such sacrosanct contract to share joys of birth of a baby. But the Central government is trying to bring in a bill that might prove death knell for surrogacy (rent a womb for child bearing) that comes handy to those childless couple where wives are bereft of wombs and have to hire them to incubate their embryos. The government seems out to nip such desires of childless couples for bundles of joy (metaphor for children). The draft bill got a nod in central cabinet meeting last week chaired by Prime Minister Narendra Modi to the shock and chagrin of IVF (Test Tube Baby) experts who deal in surrogacy all over the country. They have called its provisions draconian, arbitrary and mindless.
Though altruistic surrogacy among close relatives where no money changes hands is allowed, the proposed bill will in effect completely ban surrogacy. The emotional quotient in altruistic surrogacy would make it a non starter.
IVF experts in Delhi, Gujarat and other hubs in different parts of India, practising surrogacy, are fuming with rage for they think the bill is a mindless one. They have said they are in favour of regulating surrogacy. They have no issue if the government wants to purge surrogacy.
---
Ironically, this earthquake like shock by the central government has shook PM Modi's  homeland Gujarat the most. Anand district in Gujarat is not only the seat of Indian milk cooperative but has also been hub of 'Co-Operative Fertility' wherein an unrelated lady rents her fit womb for birth of child to another childless lady whose womb cannot hold embryo.
Surrogacy like Amul is an example of co-operation in fertility. Dr. Nayana Patel, a celebrity fertility expert, in Anand is the Verghese Kurien of co-operative motherhood revolution called Surrogacy. But this veritable baby factory for global clients in Anand would become a thing of the past if this bill sees the light of the day. The foreigners have completely been barred from availing themselves of this mode of getting a child.
The bill for banning commercial surrogacy completely is premised on the 'fancy' that surrogate mothers (women mostly poor and downtrodden, who rent their wombs) are exploited and duped. Surprisingly, not even a single such surrogate mother so far has come forward with such complaints of being exploited. Add to it an RTI application asking about such complaints, coming up with answer as none.
In fact, lives of poor surrogates are being transformed and ones, who could not make their ends meet, are living their lives comfortably in lieu of being an instrument to handing bundles of joy for childless couples. Surrogate experts complain that the government without applying its thinking mind is trying to push arbitrarily a bill that has many provisions without any rationale. They say there could be a spectacle of willing surrogate mothers, wanting to better their economic conditions, congregating in the national capital Delhi to call the bluff of baselessly insinuating surrogacy practitioners. The bill has allowed only altruistic surrogacy wherein a close relative woman can only provide her womb for child bearing. IVF experts say that altruistic surrogacy is a completely no go keeping in mind the risk of emotional blackmailing later on. Post go ahead signal to the bill, debate is raging in the country regarding the merits of the bill. The proposed bill is, for now, open for consultations and maybe revision later on would hit multimillion dollar surrogacy biz if passed as it is. Though it would take some time for draft to turn into a law, reports of severe slump in surrogacy biz
Surrogacy bill has ….
are streaming in because clients have started vanishing.
Under the proposed law with strict norms, only proven infertile Indian couples who have been married for at least five years can opt for surrogacy, while those who already have a child cannot do so.
Only Indian nationals will be allowed for altruistic surrogacy. Foreign nationals or even NRI or OIC will not be allowed. Only married couples will be allowed to opt of surrogacy. Gay, single, live-in couples are not allowed. The marriage should be minimum of five years and the age of the woman should be from 23-50 and for the man 26-55.
The Bill has penalty provisions for those violating the law, when it comes into effect. The penalties include a huge monetary fine (ten lakh), and imprisonment (ten years) and even striking down the name from medical register. This will increase paper work. The records will have to be kept for five years and not 2 years.
Surrogacy experts speak:
Dr. Rita Bakshi, chairperson of International Fertility Centre and a renowned IVF and fertility expert, is aghast at proposed Surrogacy bill. Talking to Medicare Newspaper, she says- we never thought even in wildest of dreams that such draconian bill is up government's sleeve. We are not all against regulating surrogacy and set right its underbelly, if any but trying to kill such a beautiful procedure of splashing around joys among childless couples and in return bring sunshine to those who are spending their lives in grinding poverty is sheer mindless. It is humiliation heaped on Science.
Dr. Bakshi, Vice President, INSTAR (Indian Society For Third Party Assisted Reproduction) further says- They are just fancying that there must be exploitation galore of poor women renting their womb for money while there is hardly any, evidenced by answer to an RTI  application. The answer says there is not single evidence so far. In fact, surrogacy should be treated as sacrosanct as society looks at blood donation. If the word commercial rankles, it can be changed with the word compensation.
Dr. Shivani Sachdev Gour is the founder and director of SCI Healthcare and Isis Hospital at Sci Healtchare. She left no stone unturned to block such draconian anti-surrogacy draft bill as has been given nod the last week. She finds herself at her wits end at seeing this bill being pushed without rhyme or reason. She says: there is no rationale behind banning such a beautiful procedure. How can the government be so adamant? This bill is driven by what NGO are saying without checking the facts. The voices of stake holders were not heard. Sane views, respecting regulation, were muffled while making the draft.
Sushma Swaraj is saying she wants UK surrogacy model to be replicated in India. So be it. In UK altruistic surrogacy means that any unknown lady can offer her womb for a compensation of 15, 000 pounds. But the government wants surrogacy to be free in India. I appeal to the government to rationalise the bill.
Dr. Kshitiz Murdia, Chief Infertility and IVF specialist, Indira IVF, Udaipur, says many of the provisions are welcome but banning surrogacy altogether is uncalled for. Taking all stake holders into confidence, a bill for really regulating the trade is for sure need of the hour. We are all for regulation but the way draft bill has been created negating all stakeholders is arbitrary. The government is unwittingly under pressure from NGO's is striking at the root of a very laudable procedure.