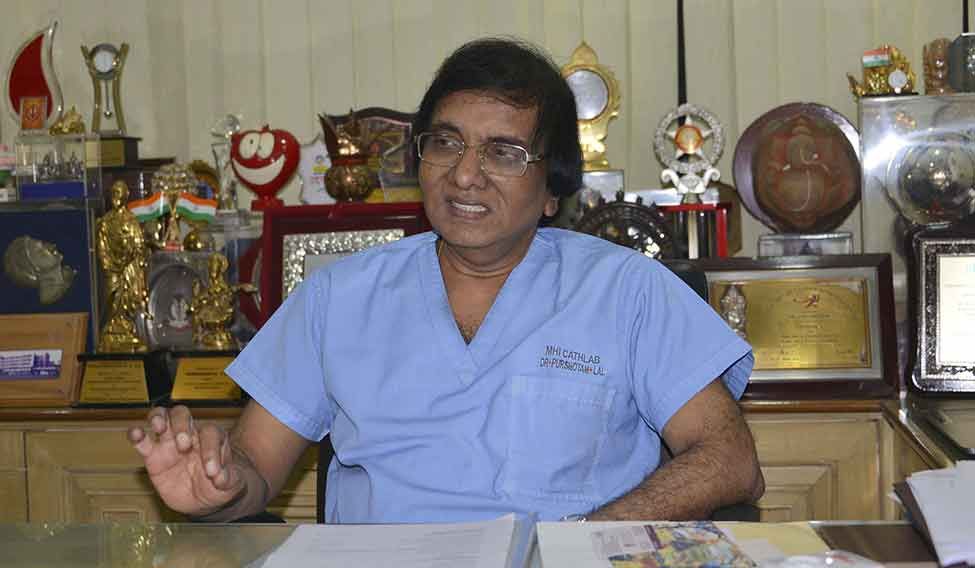 His First Non- Surgical Valve Replacement to be showcased in Dubai
Dubai/New Delhi: On 21st this month, the signature heart procedure of Dr. Purushottam Lal will be showcased in Dubai in a 3 day International Conference.
The globally renowned interventional cardiologist and Chairman of Metro Group of Hospitals, Dr. Purushottam Lal, spoke like an oracle way back in 1992: 'one day we will be able to do Aortic Valve Replacement without surgery'. There were no takers of his impossible sounding vision at that time.
But, when 12 years later, Dr. Lal performed Transcatheter Aortic Valve Replacement with Core Valve for the first time in the world on July 12, 2004 and published the research paper on the same thereafter; the cardiologists all over the world sat up and took notice of his innovative procedure. Now, Dr. Lal has been invited by CSI in an International Conference on Congenital & Structural Heart Disease to be held at Dubai on April 20th to April 22nd, 2017 where he will be presenting 'The First Ever CoreValve Implantation'.
It is the first heart procedure developed by Dr. Lal in which India has taken a global lead. The most decorated of cardiologists including by all the Padma Awards, the highest civilian honour conferred by the Union Government of India, Dr. Lal is admired globally for his innovative heart procedures. Talking to Medicare News, Dr. Lal said, 'The non surgical procedure has proved a godsend for those patients who are not in position to undergo surgery for Aortic Valve replacement. Thousands of such high risk patients have got a new lease of life, thanks this procedure.'
His signature non- surgical valve replacement procedure has become now a runaway success all over the world. Dr. Lal said, 'Till today on about 2 lakhs cases the procedure has been successfully performed in different countries and counting. Currently the Core Valve is being provided by Medtronic and cost for one procedure is about 16-20 lakhs, which is not possible for a common man to afford. But hope has floated that with more than 20 different kinds of valves being in clinical use, the cost will come down due to competition. We are trying to work out with some companies where the cost can be reduced to less than 50% of the current cost.'
Dr. Lal elucidated: 'Aortic stenosis is the narrowing of the aortic valve of the heart which restricts the blood flow to the whole body. It is one of the most common and most serious valve diseases. Patients usually complained breathlessness, chest pain, fainting etc. It mainly affects older people due to scarring and calcium built up and usually starts after the age of 60 but does not shows symptoms until age of 70 or 80. More than one in eight people over the age of 75 may have moderate or severe aortic stenosis. Since we are seeing more and more elderly patients, the situation may turn into an important public health problem. The mortality rate is almost 50% in the first two years after the symptoms among the untreated patients. In clinical practice at least 30% of patients with severe symptomatic aortic stenosis do not undergo surgery for replacement aortic valve, owing to advanced age or presence of multiple co-existing conditions.'
This group of patients who are either unfit for surgery or at high surgical risk, a less invasive treatment like Transatheter Aortic Valve Replacement (TAVR) is a big blessing.
In 1992, while giving oration lecture at the annual function of Cardiological Society of India at New Delhi, Dr. Purshotam Lal had presented animal studies of Transcatheter Aortic Valve Replacement (TAVR) and made a statement that one day he would do Aortic Valve Replacement without surgery. Though Interventional Cardiology had made tremendous progress by that time, everybody took his prophesy with a pinch of salt.
But, Lo and Behold! 12 years later on July 12, 2004 Dr. P. Lal proved himself right by performing the Transcatheter Aortic Valve Replacement with Core Valve for the first time in the world.
First Case – It was done on July 3, 2004 on 62 yrs. old male who had severe and calcific valvular aortic stenosis, moderately severe leak in the valve, kidney failure and advanced Carcinoma in lung. Patient was unfit for surgery and was done on compassionate grounds to improve the quality and benefit of chemotherapy.
So far the results are quite good and the indications are getting wider and in times to come, it may be possible that non surgical (transcatheter) aortic valve implantation will be used even in younger group of people. Dr. Lal added, 'The advances are going on and, the latest being the ready to use aortic valve which we recently used on the 76 yrs old women along with angioplasty of the main artery – a hybrid procedure being the first of its kind in the world.