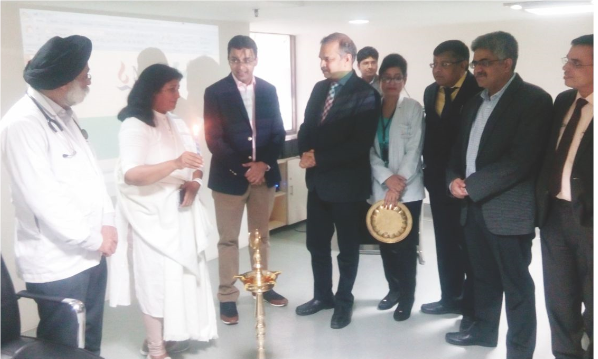 The hospital unveils colossal Cancer Tower plan

New Delhi/Ghaziabad: With iconic cancer survivor, Doris Francis, traffic activist of NH24 joining, Max Vaishali's cancer prevention and early detection campaign Udan ( flight) for women gets a forceful kick start. Dr Gaurav Aggarwal, chief of the hospital, is cocksure that her fighting spirit will filter into this ambitious cancer program and go a long way to save women from this affliction. The hospital, going for a Cancer Tower, an addition to its present building, underlines its resolve to tackle cancer in most effective way.
Gaziabad NH24 fame Dorci showed the same tenacity in battling her cervical cancer as she did in controlling the erratic traffic. The hospital volunteered to offer chemo and radiation therapy for free to her. In turn, the hospital's mega cancer campaign for women has got a very inspiring metaphor in her for battling cancer with élan. Dorci flagged off this campaign in the hospital on December 24, 2016 which will run till 31st March, 2017. Dr. Gaurav Aggrawal unveiled Max Vaishali's ambitious Cancer Tower project on the occasion. Its ground breaking being done, the construction also will get a kick start very soon.
Dr. Arun Kumar Goel, Director (DMG) – Surgical Oncology, said that gender bias could be a major reason for women's cancer being detected at a far later stage than in men. The increasing cancer burden on women could be minimized if their health becomes a matter of concern at par with men. The campaign will go a long way in exhorting women to be wary of the scourge. Udan is aimed at spreading awareness about the increasing incidence of cancer in women and to salute the fighting spirit of cancer survivors. The hospital also launched a Cancer screening program which includes Free Consultation by Cancer Expert, 50% discount on Mammography, 25% on Papsmear along with 20% discount on HPV Vaccination.
The inauguration was done by Dr Harit Chaturvedi, Chairman- Cancer, Director & Chief Consultant- Surgical Oncology, Dr. Gaurav Aggarwal, Unit Head, Max Hospital, Vaishali;,Dr. Dinesh Singh, Director (DMG)- Radiation Oncology; Dr. Kanika Gupta, Sr. Consultant-Gyne Oncology; Dr. Sandeep Agarwal, Sr. Consultant-Radiation Oncology; Dr. Ruby Bansal, Head, PHP; Dr. Swasti, Consultant, Oncology along with Mrs. Dauris Fransis – Cancer Survivor (who is under-going her treatment at Max Hospital, Vaishali).
Dr. Gaurav Aggarwal, Unit Head, Max Hospital, Vaishali said 'At Max Super Speciality Hospital, Vaishali, we salute the spirit of women who have fought against or are still fighting cancer. The aim of launching this campaign (Udaan) was to createawareness on the importance of early detection'.
One of the recent concerns plaguing the field of Oncology is the increasing number of women who are being diagnosed with Cancer. According to a study by the World Health Organization, one in 12 women in urban India will develop cancer in their lifetime. Approximately 40% of new cases of cancer in India afflict women. In the past decade, breast cancer has overtaken cervical cancer as the most common cancer among women in Indian cities.