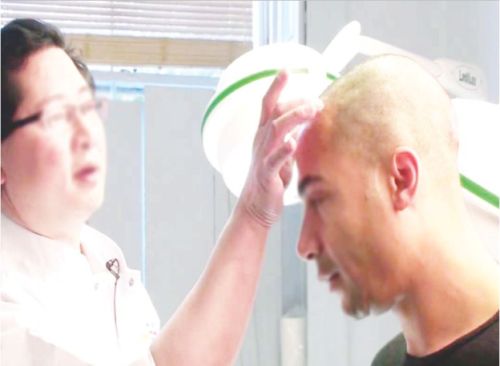 Stem cells based hair restoration is proving most effective
New Delhi: If you are worried about receding hairline in the prime of your life, perish the thought. Not because there are many elusive options being flaunted in the marketplace like hair transplant, some magical oil or spray or wonder wigs. But, because you are in the possession of valuable stem cells that have been found having immense power to undo your baldness. Stem cells are proving a sure-fire fix for onset of baldness. It is an elixir to replenish your balding head with natural hair. Headed towards baldness? Nothing to worry about for some stem cell injections in your scalp would be enough to unleash a natural crop of hair in no time. If you are in pre-marriage age and hair thinning is intimidating you, stem cell therapy is there to save you blushes in marriage. In Anti ageing scheme of therapeutics, stem cell based hair augmentation is emerging as the most effective treatment of alopecia. Even if the balding is complete, stem cell therapy can bring back at least 50 percent of hair back on the scalp.
Dr Aarushi Passi Bhandari, Cosmetic Dermatologist at Fortis La Femme, New Delhi is confident that stem cell based hair restoration would usher in an age when baldness would become a rarity. She is a very crucial member  in the Anti Ageing Stem Cell Therapy team of Dr. Prabhu Mishra, a nationally renowned stem cell expert, having forte in the production of quality stem cells Talking to Medicare News, Dr. Bhandari, Joint Secretary, Anti Aging Foundation, India, says, 'Stem Cells are the most potent hair augmentation assets in the body itself. It is catching up and as success stories are emerging, this hair treatment is sure to edge out other tentative and traditional methods including hair transplant, so trendy now a days. It is minimally invasive and within means cost wise. The procedure is not complicated at all and, unlike hair transplant, the client does not need to call it a day, not even a single day. Compared all other hair restoration procedures or means, it is undoubtedly best and most effective'

With over 50 successful stem cell based hair restoration so far to present as clinical evidence, Dr. Bhandari is well on her way to becoming one of the pioneers in the procedure. She says, 'Quality stem cells are must for the success of this procedure. It is here that Dr. Prabhu, CEO, Stemgenn Therapeutics, performs the most critical part. Production of quality stem cells from the body is Dr. Prabhu's sole realm of expertise. I do the clinical part of the procedure'.  Hair fall has been nightmare for all age groups, especially youngsters due to different modern day risk factors.
Hair thinning and balding has assumed the proportion of epidemic. But with stem cell based hair restoration procedure around, one can figuratively 'let his or her hair down' even if thinning of hair has set in. According to Dr. Bhandari, for now hair transplant market is thriving. Even youngsters of 20 and plus are going for hair transplant. But it does not last lifelong.
Same causative risk factors may again interfere with hair transplant. Then transplant is not possible in all people due to lack of donor hair areas. It is too expensive either.  Another very popular option is Minoxidil, a spray of sorts but it too has its limitations. It is effective only till it is applied. Once the application of this spray is stopped, hair denudation starts again.
Though slowly emerging and not as aggressively marketed as hair transplant or minoxidil, stem cell hair restoration is showing immense promise. Stem cells have the power to trigger the hair growth factor or follicles lying dormant on the scalp. This therapy has none of the trauma and travels of hair transplant.
After hair transplant, besides side effects, one has to remain indoors for long time but in case of stem cell sessions, life is as usual.