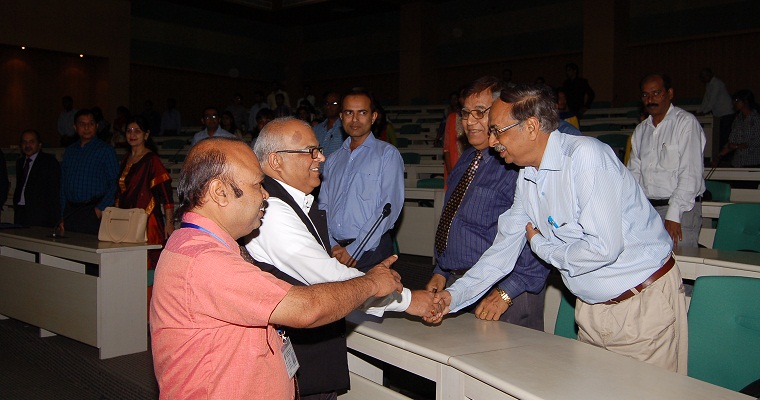 PROF.  (Dr.) MILIND  PARLE
Organizing  Secretary
Dean, Faculty of Medical Sciences
One day National Conference on "RECENT TRENDS IN HEALTH CARE " was organized by the Faculty of Medical Sciences of Guru Jambheshwar University of Science & Technology at Ch. Ranbir Singh Auditorium, Hisar. Faculty of Medical Sciences comprises of Departments of Physiotherapy, Pharmaceutical Sciences and Applied Psychology. Dr. Tankeshwar Kumar, Honorable Vice-chancellor of GJUS&T was the Chief Guest for the Inaugural Function of the conference. 280delegates from different states were registered for this conference. 117scientific papers were presented in the form of posters in various discipline of Health-Care. The Proceedings of the conference were printed in the form of abooklet, which was released by Dr. Tankeshwar Kumar, Vice-Chancellor of Guru Jambheshwar University of Science & Technology, Hisar during Inaugural function.Prof. Milind Parle, Chairman of Department of Physiotherapy and Dean of Faculty of Medical Sciences recounted that Health is our real Wealth during his inaugural speech. He set the ball rolling by making the audience aware of certain guidelines, which help in maintaining good health. Dr. Parle focused on Heart- foods and brain- snacks for maintaining optimum cholesterol and blood pressure levels, while preventing neuro degenerative disorders. Dr. Parle also mentioned the role of meditation and Music Therapy in maintaining a sound mind in a sound body. Prof Dr. R.D Rana, Dr.R.K Harna Ex-SDCO, Dr. Burman DM,and Dr.R. K. Behl evaluated the posters.
---
Five plenary lectures were delivered in scientific sessions. Prof. (Dr.)Vivek Kaushal, Head department of Radiotherapy, Medical College, Rohtak deliberated on "How to avoid Cancer"?. Prof. (Dr.) Jyoti Kaushal Dept. of Pharmacology PGIMS, Rohtak explained, "How to live with Diabetes" with the aid of power point slides. Dr. Burman, DM Neurology shared his experience of managing Neuro degenerative disorders.  Dr.Burman focused on the new medicines introduced recently into market for the management of psychosis. He was authoritative in replying to various queries raised by the delegates about positive and negative symptoms of schizophrenia. He further consented for active collaboration with Pharmacology students of Department of Pharm. Sciences. Another interesting talk was delivered by Dr. Kakkar, a Medical practitioner from Delhi on the topic "Spirituality and Health" in a convincing manner. Dr. Kakkar explained the connection of mind, body and souland importance of Attitude of Gratitude in one's life, since health is aprimary concern of everyone. Dr. Kakkar conveyed successfully the importance of positive attitude in preventing various health disorders. Honorable Vice-Chancellor Dr. Tankeshwar Kumar attended this Scientific- Sessions as well and interacted with the experts. The last invited talk of scientific session was delivered by Prof. R. Baskar on the topic "Influence of rocks on health", which was well received by the audiences. The Valedictory function was presided over by Prof. M.S. Turan, Registrar of Guru Jambheshwar University of Science &Technology, Hisar. He congratulated the organizing committee for hosting successfully this one day seminar. He appreciated the active participation of the students of Department of Pharmacy, Physiotherapy and Psychology. Prof.M.S. Turan gave away the prizes to the winners. Awards were conferred toresearch scholars of Departments of Physiotherapy and Pharmaceutical Sciences.Dr. Kulandaivelan, Dr. Shabnam Joshi, Dr. Mandeep and Miss Shikha bagged Bestposter awards in Physiotherapy section whereas, Miss Monu, Dr. Isha Dhamija,Mrs. Sushila and Rakesh Saini bagged Best research paper awards in Pharmacy. Furthermore,a cultural evening comprising of selected dance items from the students of Physiotherapy and Pharmaceutical Sciences was presented in the main hall of the Auditorium. Moreover, a Gazal Programme was specially arranged for entertaining the audience. This conference helped in creating awareness about the prevention and cure of fatal diseases such as diabetes, cancer, psychosis and Alzheimer's disease. Today, life has become very fast due to electronic devices such as Mobiles, Laptops and Smart-phones. These electronic devices induce stress and tension, which ultimately leads to development of Psychiatrist Disorders. It is possible to control these disorders, if the society is properly educated on health issues.