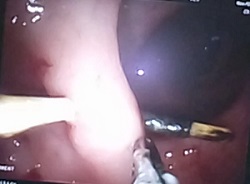 The Medical Gastroenterology department of PGIMS, Rohtak has brought laurels to PGIMS, Rohtak by achieving a rare feat of successful Colonoscopic removal of migrated copper-T from uterus into sigmoid colon, thus saving inevitable surgery. This is India's first and overall world's fourth case reported in literature where such kind of migrated Copper-T into colon has been removed colonoscopically, as rest all have been removed only surgically. Dr. Parveen Malhotra, H.O.D, performed this procedure along with his team which comprised Dr. Ajay, Jaikishan, Naresh and Sandeep. Dr. Malhotra further told that this 35 year old female got Copper-T inserted few months back at some private hospital but later on developed pain abdomen. Her clinical examination and CT scan abdomen revealed that her copper-T has pierced the uterus and got migrated into Sigmoid colon.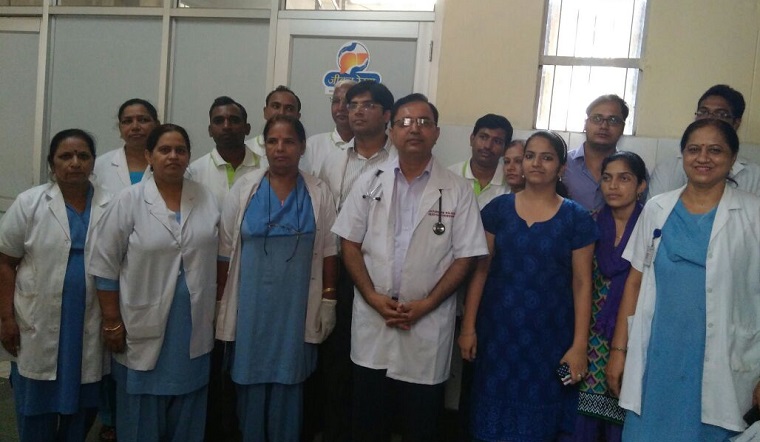 It is one of rare complications of copper-T insertion. She consulted some private practitioner who tried to remove it but in vain, hence she was referred to PGIMS, Rohtak. Later on he was referred to PGIMS, Rohtak and was admitted in Gynecological ward under Dr. Daya Sirohiwal.
When colonoscopy was performed it revealed a migrated and stucked up copper-T in sigmoid colon which was successfully removed using all the expertise, as any trivial mistake could have led to perforation of colon. The patient was observed for next two days and was discharged under stable and healthy condition. The highlight of this case is that, majority of these migrated Copper-T have been removed surgically and very few Colonoscopically worldwide & our case is probably first in India where itwas removed by this technique and hence patient was saved from surgery. It is pertinent to tell that same team has removed endoscopically world's largest Trichobeozar (ball of hair) and gossypiboma (migrated mop which was left post-operatively).