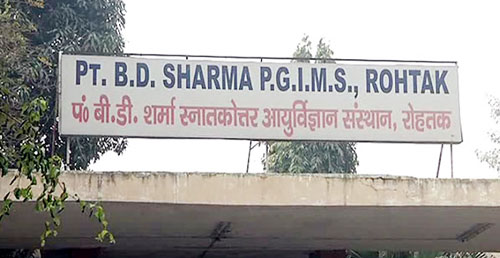 COMPLAINT TO C.M.KHATTAR
Close on the wheels of defence person getting multipul residential plots in various Urban Estates of Haryana by submitting  false affadivit ,yet another scam involving some doctors of Pandit Bhagwat Dayal Sharma Post Graduate Institute of Medical Sciences , Rohtak getting residential plots from Haryana Urban Development Authority under defence quota claiming to be defence person has come to light .These doctors who occasionally viisits terretorial army hospital situated in premises of PGIMS ,Rohtak have claimed that they are defence person.The scam was committed in convinance with officers of Sainik Board and officers of Haryana Urban Development Authority.
.Interestingly some retired army officers  who are whistleblowers in this case has not formally complained about the matter in their name as they fear persecution at the hands of powerful beneficieries of the scam.They have requested ,Gurugram based activists and whistleblower,Harinder Dhingra to take this scam to its logical conclusion by using R.T.I. route, or by media or judiciary.Interestingly this whistleblowers had no faith in the Govt. as they says that this Govt, believes more in rhetoric than action.
Dhingra has sent their complaint to Haryana Chief Minister, Manohar Lal Khattar for action.They have written to Dhingra that they have learnt a lot about his endeavours for bringing about transparancy and governanace adding that our army men  will always be indebted to him  for brining this scam to its logical conclusion so that guilty can be punished.
Dhingra has wrote to Khattar that the complainant is so afraid of consequences of filling  a genuine complaint that he had  to write to ordinary citizen like him for raising the issue through RTI.Demanding action in the matter Dhingra has written that there is something wrong in the system that people dont trust in making complaint.
Haryana Urban Development Authority allots residential plots under various reserve categoeries to defence men, ex-servicemen and war widow etc. as tribute to our soilders fighting the enemy on borders in air force,navy and army.Since they can be transferred to any where in the country ,hence a residential plot to Haryanavi armed person in Haryana provides stability to them
It has been pointed out that a scam has been committeed in these allotments  as certain doctors of PGIMS,Rohtak who are on Haryana Govt service and draws salary from the Govt .are occassionally called for reference in case of serious matter in Terretorial Army Hospital situated in premises of PGIMS  have shown themselves as army person and hod got residential plots alloted to themselves under defence quota  in connivance with  the officers of Sanik Board and Haryana Urban Development Authority.Complainnant has  alleged that as many as twenty residential plots have been allotted to such doctors under defence quota.