Dubai/ United Arab Emirates: Aster DM Healthcare has held hands of differently-abled to boost their determination to heroically live.
As the ubiquitous Aster Volunteers join forces, the hope has floated high among such people of 'determination'. The caring healthcare major has also reiterated its commitments to infuse their determination into its workforce by employing them.
With the aim to help and empower differently-abled people in the country, Aster Volunteers joined hands with the 'Dubai Club for People of Determination' (formally known as Dubai Club for Disabled) for a collaborative initiative called "Al-Amal – The Hope".  The effort was implemented as part of the giving back initiatives by Aster DM Healthcare to mark their ongoing "Aster@30"anniversary celebrations.
The event saw participation from more than 200 differently-abled members and their families. Over sixty external volunteers, close to thirty internal volunteers from various divisions of Aster DM Healthcare, and multiple NGO partners' came together to organize interactive entertainment and wellness activities. It was a pleasant experience for all the participants and their family members.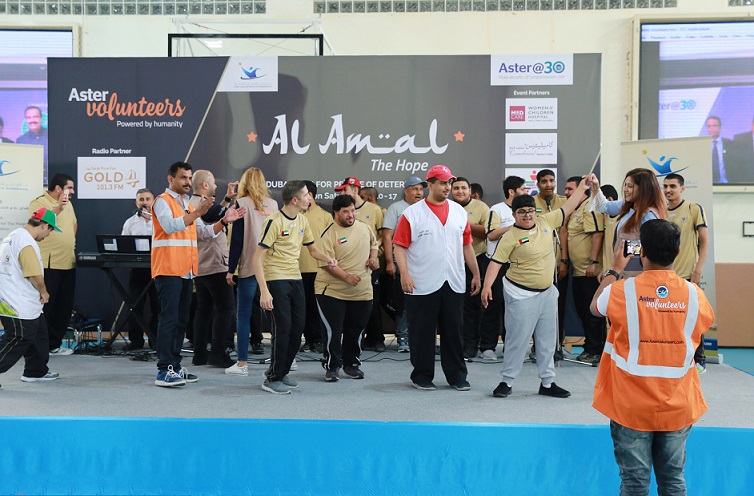 Aster Volunteers also arranged a free medical check-up camp for the attendees with the support of doctors from Medcare Women & Children Hospital , Dubai and Medcare Hospital , Sharjah & Aster Hospital & Clinics, and para medical staff and nurses from various specialties including general medicine, orthopedics, pediatric, dentistry, gynecology and ENT. Further, the medical team demonstrated basic life support awareness and CPR training. The attendees could also take part in creative workshops on arts and crafts, paintings and photography.
As testimony to their commitment to the community, Aster DM healthcare is working on recruiting more than 100 differently-abled people in its workforce in GCC and India.
Commenting on the occasion, Dr. Azad Moopen, Chairman & Managing Director for Aster DM Healthcare, said, "With the blessings of the almighty and support of our UAE Rulers, Aster DM Healthcare has completed 30 years in the healthcare sector. To celebrate three decades of serving the society, we have launched a series of initiatives to give back to the communities in which we operate. Through the 'Al – Amal' initiative, we are honored to help and support the people who are living their life with determination and achieving things to the best of their abilities."
He also added "Aster Healthcare has already hired 24 differently abled people in different workforce areas, and we aim to increase this number to 100 in the coming months"
Dr. Zeba Moopen, Director, Special Projects and Head, Aster Volunteers, commented, "The efforts by all the volunteers and their willingness to support our communities is very commendable. Many people want to help, and many are in need of help. The Aster Volunteers serves as a platform to connect both these segments of society."
The Club officials appreciated the efforts of the Aster Volunteers to support their members, while also setting up job placement opportunities. "The recruitment opportunity for these people is a great help for them to support their families and themselves while working in the mainstream work environment. The Medical camp and BLS was very helpful, and the activity counters and the art and craft booths made the day very special for all our children," said Thani Juma Berregad, Chairman of Dubai Club for people of determination.