Awesome Twosome for Ace IVF Specialist Dr. Archana Dhawan Bajaj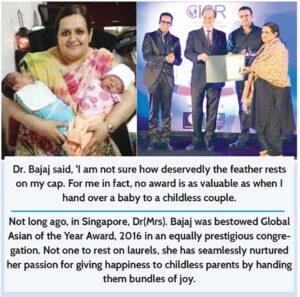 Dhananjay Kumar, Managing Editor
London/New Delhi: It is an Awesome Twosome for ace IVF expert Dr. Archana Dhawan Bajaj.  Back to back glory, one in Singapore and another shortly after in London for impeccable assisted birthing credentials are a kind of leap of faith for her. In the star studded 'The Oval', Dr. Bajaj was conferred the coveted title of 'Inspirational Leader of New India' on May12. The 'Grande Dame' of IVF got the tag in the presence of international luminaries from across the globe.
Dr. Bajaj's assisted birthing and IVF centre, 'Nurture' in Delhi (Narayana), widely appreciated for ethical surrogacy, has earned the tag of being a veritable 'Bourn Hall' of India. The ice on the cake is that she got this award in the vicinity of legendary and original IVF centre Bourn Hall in London where first test tube baby of the world had seen the light of the day in the hoary past.
As always, humility took the better of Dr.(Mrs) Bajaj. Talking to Medicare News just after receiving the coveted honour, she was a picture of modesty. Dr. Bajaj said, 'I am not sure how deservedly the feather rests on my cap. For me in fact, no award is as valuable as when I hand over a baby to a childless couple. That in fact is the greatest trophy for me and I have gotten it many a time in my test tube baby birthing career so far. Yes, I find this award in London a little flattering because getting it in neighbourhood of fabled Bourn Hall' is whale of an honour.'
Center for International Competitiveness and Research launched the glittering annual Global Power Brands compendium along with the mega listing of the World's Most Recognizable Brands. The launch was presided over by legendary cricketers Alec Stewart (former captain of the English cricket team) and Kumar Sangakara (one of the greatest Sri Lankan ODI players). The awardees included doyens of diverse field including professors from Oxford. In medicine, Dr Bajaj turned out to be single in the Oval Hall of fame.
Arindam Chaudhuri, the founder of Power Brands, gave the inaugural speech outlining the need for global humanism through a more equal world. The inductees into the Power Brands Hall of Fame also included Nobel Laureate Leymah Roberta Gbowee, Member of Parliament Mark Durkan, iconic Sri Lankan cricketer Kumar Sangakkara and leading Indian tycoon Pankaj Munjal. The annual international brands' research is undertaken on tens of thousands of brands from multiple industry segments across the globe.
Not long ago, in Singapore, Dr(Mrs). Bajaj was bestowed Global Asian of the Year Award, 2016 in an equally prestigious congregation. Not one to rest on laurels, she has seamlessly nurtured her passion for giving happiness to childless parents by handing them bundles of joy.