New Delhi: The life of adorable baby Assiya Ashraf , barely 2, was made pitiable by congenital hole in her heart coupling with the crater of poverty her family was in. Her life was hanging from a thread.
But the pretty little girl from Kashmir Valley was rescued from this heart rending situation by a totally free surgery done in Smart Max hospital, thanks to 'gift of life' program run jointly by Max Foundation and Rotary Central Delhi. Her hole was mended by 'Metro Man' fame surgeon Dr Ganesh Mani, one of the best heart surgeons in India. Metro Man Sreedharan had chosen Dr Mani for his open heart surgery (bypass).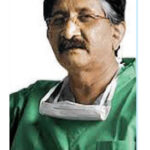 The cute Assiya was a picture of misery. She could not play as even a little effort would make her gasp. She had lost her appetite. Her heart beat was prohibitively fast. But, lo and behold! She turned into a bundle of joy after repair procedure last week in Delhi's Smart Max hospital at Saket. She has got the mojo of a chirpy little baby. Her mother Famida's joys know no bounds to see her daughter hale and hearty after the procedure. She did not have to pay even a penny for the treatment.
Hailing from Darjipura in Kupawara district of Kashmir Valley, Assiya's father Abdul Gaffar Vani earns a pittance, bare Rs 5 thousand per month as a driver. This was inadequate even for two meals a day for a family of 6. She has two elder sisters and an elder brother. That the family would have afforded her treatment was out of question.
The program 'gift of life' was like manna from heaven for her. Her family did not have to entreat the hospital for the treatment. Max Foundation and Rotary reached out to her. Max hospital had first advertised the program, then Rotary organised a camp for poor patients in Kupawara. Assiya was chosen there and brought to Delhi for life saving treatment.
Max India Foundation CEO Mohini Daljeet  Singh and Dr Manju Mani , President, Rotary Central Delhi, are leaving no stone unturned to make gift of life a source of succour for such poor patients as Assiya. Talking to Medicare News, Dr G Mani said, 'Gift of life program is proving a real help to critical patients like Assiya. Many more poor children with the same ailment are lined up for the procedure in the Smart Max.