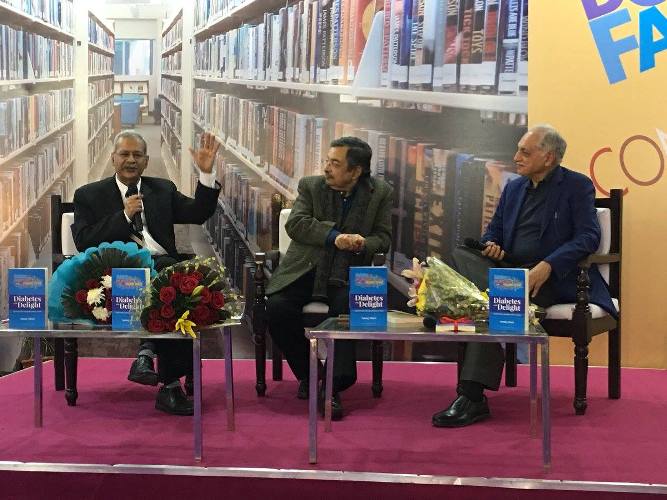 New Delhi: Diabetes is a dynamic disease. At every step of life, a diabetic has to confront some question or the other regarding his disease. That question needs to be answered immediately to keep him from harm's way. If he has to rush to his doctor for every answer, his life would be a long tortuous journey.
But the book 'Diabetes with Delight' empowers diabetic patients in India as never before. If a diabetic has this book, he keeps Dr Anoop Mishra, ace diabetologist and the writer of this book as his permanent company. Dr Mishra, Chairman, Fortis- CDOC Center of Excellence for Diabetes, Metabolic Diseases and Endocrinology himself calls his book a joyful guide to management of diabetes in India and rightly so. The book, published by Bloomsbury, was launched in World Book Fair by renowned media personality Vinod Dua, himself a diabetic. He vouched that the book is going to be hugely useful for the diabetic patients of the country.
Talking to Medicare News , Dr Mishra, Director, National Diabetes, Obesity and Cholesterol Foundation and Diabetes Foundation (India)  said, ' Diabetes is a dynamic disease. Diabetics need to change medicine every day, every month. They may always be faced with some question or other. I have made this book exhaustive so that every one of them gets almost all answers without even going to his consultant diabetologist. This is the first book that has been written specifically for India diabetes. The book is rigorously evidence and science based'
The book attempts to demystify the myths and conundrums surrounding diabetes. It contains simple guidance. Those who follow the simple principles of the therapy are generally safe and have good quality of life. This is what the book aims to provide- time tested simple advices on various aspects of diabetes. It is tailored for Indians. The psyche of Indian patients, uniqueness of Indian diets and need for individualized exercise framework for Indian bodies are highlights of the book.
Often less understood issues like fasting, exercising, use of fruits, snakes, artificial sweeteners, vitamins and minerals have been clarified. And simple recipes at the end of the book will help patients construct healthy menu all by themselves.
In the final analyses, 'Diabetes with Delight' is a comprehensive book for diabetes patients suffering from multiple complications including heart, kidney, neuropathy and sexual dysfunction. The book is not only for patients, it is also for nutritionists, pharmacists, diabetes educators, physicians, physical trainers, dietician et al.