New Delhi: Hers is the stuff a fairy tale. After defeating Cancer, stunningly beautiful 28 year old Delhi girl Neha Jain is all set to wed her beau on upcoming Feb 9. In cancer survivors meet in Talkatora Stadium on the occasion of World Cancer Day (Feb 4), she had come in bridal finery and was cynosure of all eyes.
In the gruelling hours of fighting her ovarian cancer, Neha's love interest of 11 years Yogesh (29) stood beside her like pillar of support. She was diagnosed with cancer after engagement with him one year ago while she was in Dubai doing a job. The family support, Yogesh's unstinted succour and caring treatment by Dr. Surender Dabas, Director – Surgical Oncology & Chief of Robotic Surgery, BLK Cancer Centre finally liberated her from stranglehold of cancer. She has emerged as the unspoilt beauty.
Cancer survivors in Talkatora indoor stadium displayed ultimate will power, courage and fighting spirit. They all had a story to tell how they held the nerve and ultimately triumphed over their cancers. They wowed the crowd by their panache and animated ways. The message that emanated from them was that cancer patients can win and have to win. All cancer survivors went gaga over the way Dr Dabas treated them.

The meet of cancer survivors was organized by BLK Super Speciality Hospital, in association with New Delhi Municipal Council (NDMC) and Spring Hope Cancer Foundation. In the Day-long program 'Beat the Cancer'/ Cancer Paraajit' at Talkatora Stadium, over 1,000 cancer warriors gathered and shared their experience, showcasing their battle for life in the form of Play, Dance and a Fashion Show.
On the occasion, BLK Super Speciality Hospital also launched the next leg of its Community Outreach Programme- 'Know Cancer, No Cancer(KCNC)' and unveiled the findings of the year-long Cancer Screening and awareness campaign in which it screened free nearly 50,000 people spread across Delhi-NCR and neighbouring states.
The KCNC data, released on the ocasion, revealed that oral cancer is the most common cancer among people especially smokers and tobacco users. Out of 16 people, precancerous cells were found in one person. On an average, one cancer patient was found out of 200 people screened. Data also revealed that Breast and Cervical cancers are the most common cancer in women and 15% people screened, were found obese. Obesity, according to experts, is a prominent risk factor for cancer. The KCNC data also pointed out that to check the rising incidence of cancer people need to be made aware of advanced facilities for early diagnosis, treatment, and care.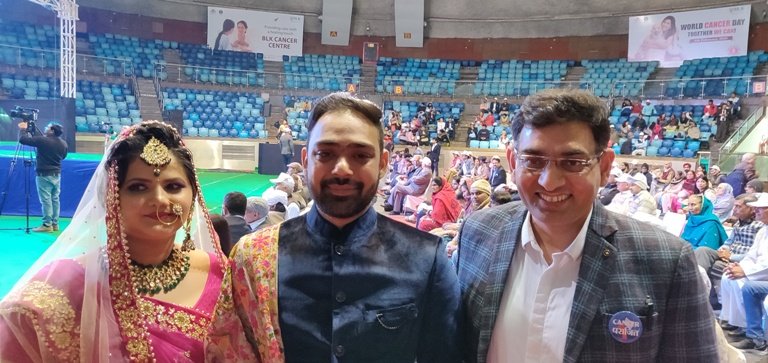 Welcoming the cancer warriors at the event, Dr. Surender Dabas, Director – Surgical Oncology & Chief of Robotic Surgery, BLK Cancer Centre said, "Lack of awareness often delays the diagnosis and as a result, about 50% cancer patients discover their ailments only in the 3rd or 4th stage, which severely restricts their survival chances.  During our year long KCNC program we found one person with precancerous cells out of 16 healthy people screened in these camps, which is quite alarming."
"The main attraction of today's the program was performances by the survivors themselves as they narrated their experience both through performances and dialogue with the audience. We saw a participation of over 1,000 cancer survivors. The main objective of the whole program was to create awareness among people about the availability of advanced facilities, treatment and care," he added.
Interface with patients, Fashion Show, Play, Dance performance and Songs by survivors, Experience sharing sessions and cancer survivors' felicitation were part of the day-long ' Beat the Cancer'
Equipped with state-of-the-art equipment, facilities, and experienced faculty and staff, BLK Super Specialty Hospital offers personalized and comprehensive cancer care. With a patient-centric multidisciplinary approach, the highly qualified and experienced experts not only help in treating cancer but are also engaged in various awareness programs and activities across geographies. 'Beat the Cancer' is one of such initiatives of BLK Super Specialty Hospital.