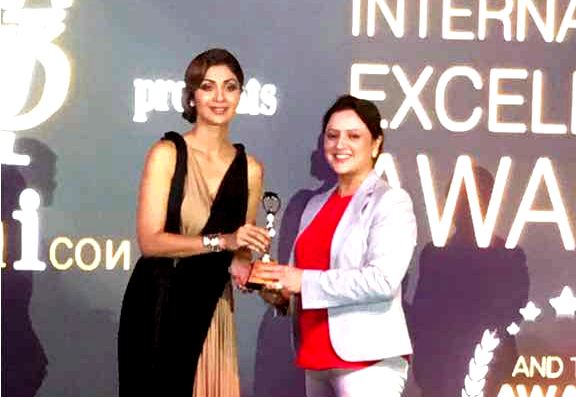 Dr. Ridwana Sanam, an ace physiotherapist of the country, catering to veritable who's who of clienteles, has yet another feather of excellence on her cap. Last week, she was conferred with International Excellence Award 2017 in Goa. Bollywood celebrity and once a heart throb of millions Shilpa Shetty Kundra handed over the award to her. Icing on the cake was Ridwana's charm offensive. Her personality mighty impressed the crowd.
The event was held at Holiday Inn Resort, Goa. Dr. Ridwana Sanam got the Excellence Awards 2017 for her distinguished services in the field of medical services to the poor and downtrodden.
Dr. Ridwana Sanam's name stands out in the list of most trusted and result oriented doctors of physiotherapy in the country. She is a renowned Physiotherapist of India and Founder & MD of KRV Group, which is a multi-super specialty Physical therapy Institute. Brand Icon in association with Brands Impact had organised the prestigious event.
Dr. Ridwana's KRV Physiotherapy was crowned as "Angel in Medical Services" at Gurgaon, November 2013.She also 10 centres for now and her mission is to launch 90 franchises in India in next 5 years.