New Delhi: The realization is slowly but surely dawning on oncology world that reinforced immune system might be the best bet in fight against cancer in times to come. US's FDA (Food and Drug Administration) too has clearly vouched this in the preceding year.
In 2016 ESMO (European Society for Oncology) Congress in Canada, a near consensus emerged that immunotherapy is going to be the future of Cancer treatment. Close on the heels, FDA buttressed this thinking.
Dr R.K.Choudhary, Senior Medical Oncologist, Metro Hospital and Cancer Institute, who participated in that very crucial ESMO Congress, revealed this. Talking to Medicare News on the occasion of World Cancer Day, Dr Choudhary said, 'Immunotherapy medicines constituted the lion's share of medicines that FDA approved in 2017. This surely indicates the future of cancer treatment. Immunotherapy soon may become the first line of treatment.'
Immunotherapy has been in India for quite a while but, not long ago, it was dubbed as quackery. But now the evidences have piled up in favour of immunotherapy. A new version of immunotherapy by dendritic cells, originating from Germany, is changing the game of fight against cancer. A single vaccine created from patient's own blood has been found very effective in remission of cancer. It works by boosting immunity which takes on cancer cells and kills them.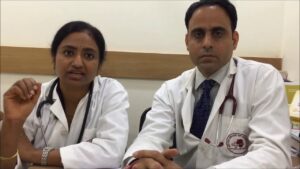 Dr Choudhary further said, 'Increasing cases of cancers should be a matter great concern in the country. In last 2-3 years, the cancer has become a household word. The theme of this year's World Cancer Day theme 'We Can, I can, Early detections save lives' embodies the key to the solution of this catastrophe.'
Dr Choudhary added, 'Chemotherapy has come a long way from its earlier stage when it was considered worse than the disease. Chemotherapy is increasingly becoming refined and side effects have greatly eased.'
In the mean time, India is all set to enter the exclusive League of Nations which posses the expensive facility of proton therapy. This year may propel India to become the first country in South East Asia to have this facility. Apollo has almost installed this facility in its Chennai hospital. Proton therapy is being flaunted as the ultimate in cancer treatment.
To mark the day, Metro Hospital and Cancer Institute conducted 4 day free cancer screening.  This institute is the oldest cancer institute in Delhi. This was the first cobalt Centre in Delhi. In a decade oncology here, the institute can claim a number of cancer survivors.