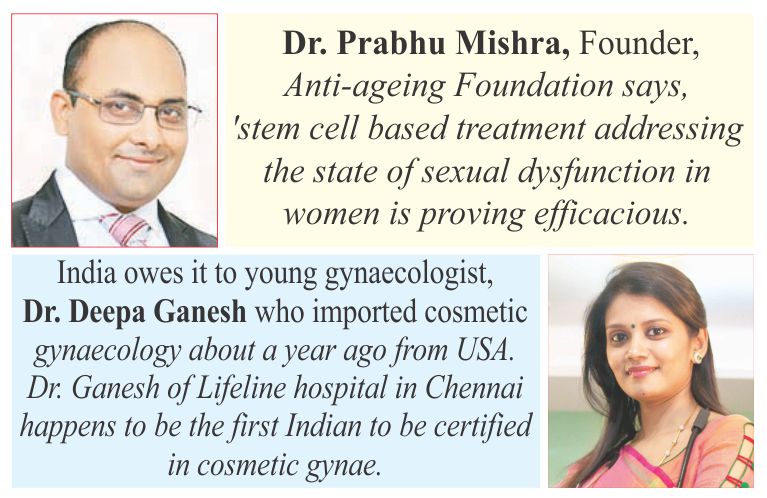 New G-spot injection for women may make it easier for men in the bed room
New Delhi/Chennai: A woman no more needs to suffer mutilation of her external genitalia by delivery and slowing down of orgasm speed and urge in silence. A long time craze among Hollywood divas for repair of private zone and enhancing of libido (sexual craving) is all set to penetrate deep into India.
An injection that enlarges the G spot on V area is the new buzzword in Indian Gynaecology parlance. The spot is an area which is a trigger for arousal in women.The enlargement of this spot fast tracks arousal and empowers women for multiple orgasms. The G-spot amplification may be good news for Indian men too. The G-shots may reduce their fear of failure in the bed room and make orgasm a lot easier.
Cosmetic Gynaecology entails a host of procedures mainly renovation of mutilated external female genitalia and enlargement of its arousal surface area. Indian women now can have such procedures for a song compared to its cost in US, where cosmetic Gynaecology is in vogue for over a decade now. India owes it to young gynaecologist, Dr. Deepa Ganesh who imported cosmetic gynaecology about a year ago from USA. Dr. Ganesh of Lifeline hospital in Chennai happens to be the first Indian to be certified in cosmetic gynae. She learnt this genre of gynaecology from its original practitioner Dr. David Matlock, Hollywood's famous cosmetic gynaecologist. Dr. Ganesh is the Secretary General of Anti-ageing Foundation and Advisory Board member of Stem Genn Therapeutics too.
She collaborates for cosmetic gynaecology with Dr. Prabhu Mishra, a stem cell therapeutic expert and CEO of StemGenn Therapeutics. Dr. Deepa Ganesh says, 'After a couple of deliveries female genitalia is left mangled, unseemly and repulsive. And slowness in arousal also sets in. Cosmetic gynaecology can come handy in correction of these two conditions that weigh heavily psychologically on women.' She further adds, 'G-shot is a life changing procedure. The icing on the cake is that the procedure is drug free, completely safe and painless. Collagen which is natural to the body is injected for this. G spot amplification is not a new concept.  It has been around for about two decades. US women ranging between aged 16 and 60 are going for this procedure from 2002 onwards. For middle aged women, cosmetic gynaecology is a bed room bliss harbinger.' Dr. Prabhu Mishra, Founder, Anti-ageing Foundation says, 'stem cell based treatment addressing the state of sexual dysfunction in women is proving efficacious. It especially comes handy to menopause approaching women and brings back their libido. Stem cell therapy has become an integral part of cosmetic gynaecology. It is also efficacious in vaginal rejuvenation and treatment of urinary incontinence ( is the involuntary leakage of urine in women).