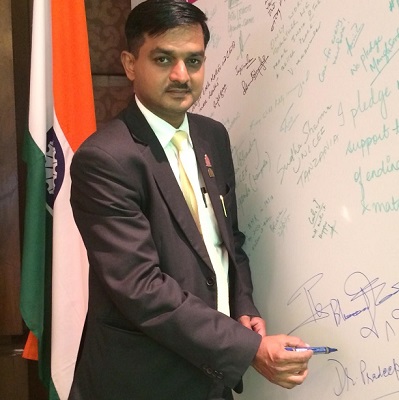 The Consumer today is much more demanding and is prepared to pay for the delivery of a quality product or service as the case may be. Healthcare Services also have been made to respond initially by the patients from abroad and then by the local population. The hospital services have been progressively upgraded by those concerned/involved. It was the ISO standards, to start with, which did not fully meet the ever increasing demands of the stakeholders. These were replaced with the Standards formed by the National Accreditation Boards by the Government which were more in line with the requirements of the industry. The healthcare delivery systems exhibited some inertia to get involved in these accreditation schemes as is generally the case while launching such initiatives. To give the scheme a fillip, the Regulatory/Statutory authorities started imposing them for different requirements like empanelment with the Central Government Health Scheme, Ex Servicemen Contributory Health Scheme etc.
The speed of empanelment seems to be picking up but it is still not that is expected for a progressive environment. There is generally an apprehension that achieving them is not only cumbersome but expensive and difficult. To address such myths, this article, in a nut shell, tries to tell its readers of 'Why and How' of Accreditation of the Laboratories.
ACCREDITATION: What is it?
1. A process of external review of the Quality of the healthcare being provided by a Healthcare Organization. This is generally carried out by a non-governmental organization
      2. It also represents the outcome of the review and the decision that an eligible     organization meets an applicable set of standards.
Why LABORATORY ACCREDITATION?
The concept of Laboratory Accreditation was developed to provide a means for third-party certification of the competence of laboratories to perform specific type(s) of testing and calibration.
Laboratory Accreditation provides formal recognition of competent laboratories, thus providing a ready means for customers to find reliable testing and calibration services in order to meet their demands.
Laboratory Accreditation enhances customer confidence in accepting testing / calibration reports issued by accredited laboratories.
The Insurance agencies and the TPAs are more confident of dealing with the accredited agencies.
The globalization of Indian economy and the liberalization policies initiated by the Government in reducing trade barriers and providing greater thrust to exports makes it imperative for Accredited Laboratories to be at international level of competence.
BENEFITS of Accreditation
Formal recognition of competence of a laboratory by an Accreditation body in accordance with international criteria has many advantages:
1. Potential increase in business due to enhanced customer confidence and satisfaction.
2. Savings in terms of time and money due to reduction or elimination of the need for re-testing of products.
3. Better control of laboratory operations and feedback to laboratories as to whether they have sound Quality Assurance System and are technically competent.
4. Increase of confidence in Testing data and personnel performing work.
5. Customers can search and identify the laboratories accredited by NABL for their specific requirements from the Directory of Accredited Laboratories.
6. Users of accredited laboratories will enjoy greater access for their products, in both domestic and international markets, when tested by accredited laboratories.
SCOPE of Accreditation
NABL Accreditation for MEDICAL LABORATORIES is currently given in the following fields:
i. Clinical Biochemistry: is concerned with changes in the composition of blood, and other body fluids, associated with diagnosis of disease and monitoring of therapy.
ii. Clinical Pathology: is a medical specialty that is concerned with the diagnosis of disease based on the laboratory analysis of bodily fluids, such as blood, urine, and tissues using the tools of chemistry, microbiology, hematology and molecular pathology.
iii. Haematology and Immunohaematology: Haematology is the study of blood, the blood-forming organs, and blood diseases. Hematology includes the study of etiology, diagnosis, treatment, prognosis, and prevention of blood diseases that affect the production of blood and its components, such as blood cells, hemoglobin, blood proteins, and the mechanism of coagulation.
Immunohematology, more commonly known as blood banking, is a branch of hematology which studies antigen-antibody reactions and analogous phenomena as they relate to the pathogenesis and clinical manifestations of blood disorders.
iv. Microbiology and Serology: Microbiology is the study  of microscopic organisms, which are defined as any living organism that is either a single cell (unicellular), a cell cluster, or has no cells at all (acellular). Microbiology is a broad term which includes virology, mycology, parasitology, bacteriology, immunology and other branches.
Serology is the scientific study of blood serum and other bodily fluids. In practice, the term usually refers to the diagnostic identification of antibodies in the serum. Such antibodies are typically formed in response to an infection e.g ELISA.
v. Histopathology: refers to the microscopic examination of tissue in order to study the manifestations of disease. Specifically, in clinical medicine, histopathology refers to the examination of a biopsy or surgical specimen by a pathologist.
 vi. Cytopathology: is a branch of pathology that studies and diagnoses diseases on the cellular level.
vii. Genetics: is the science of genes, heredity, and variation in living organisms. It deals with the molecular structure and function of genes, gene behavior in context of a cell or organism.
viii. Nuclear Medicine (in-vitro tests only)
Accreditation to a laboratory is given on the basis of its capability to perform test(s) and provide accurate and reliable results. A laboratory may apply for accreditation from as little as one to as many tests provided it is performing these in accordance with NABL criteria.
The accreditation granted to a laboratory shall remain valid for a period of 2 years subject to satisfactory periodical (annual) surveillance. Laboratory also has an option to widen the scope of accreditation in terms of specific tests and calibrations. NABL has established policies and procedures for granting, suspending and withdrawal of accreditation
ASSESSMENT CRITERIA (Based on ISO/IEC 17025 or ISO 15189 standard)
A laboratory wishing to be accredited by NABL must have a QUALITY MANUAL on its Quality System.
Quality System documentation and its implementation by the laboratories are verified by the Assessors for its compliance (in accordance with ISO/IEC 17025 or ISO 15189 standard).
The laboratory management has to demonstrate to the NABL Assessment Team that all requirements as laid down in the ISO/IEC 17025/ISO 15189 standard, Specific Criteria and other Guidelines / Requirements of NABL are being followed.