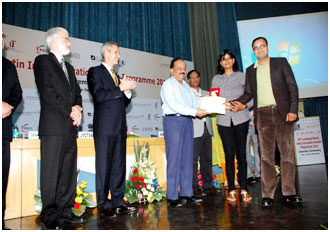 Planning to appoint 2000 distributor in India also.
New Delhi: Patients who come for speech therapy to Mrs. Soniya usually complain about their visit to clinic repeatedly. She came up with a solution after consulting her husband Prashant, who is an expert on developing medical devices. She asked him to create a speech therapy device. Found in 2012, Innoflaps is a startup in the healthcare space that aims to help people that have speech and language impediments such as stammering, delayed speech and language, and related ailments.
They developed three products of different age categories. Speechify digital is a device which is used for speech therapy. Speak fluent is a device which is used for treating the stutters, the same device are used in order to help treat Tinnitus. Innoflaps started with bootstrap, but later they raised a seed funding round of Rs.40 Lakhs. Innoflaps experienced lots of hurdles as it was really hard for them to gain trust in hospital authorities as well as patients.
From their initial stage funding, they started expanding their team which led to increase to their business as well as the development of the company. Their products are available across the country and are available in more than 70 hospitals which have also led to benefit to more than fifteen thousand patients. they have received accolades and awards from the Department of Science and Technology (Government of India) and FICCI, Stanford University, University of Texas, USA and they were also the winners of IIGP2015 (India Innovation Growth Program).The company is planning to build strong network of more than 2000 distributors across the country and are planning to expand their network to Middle East as well.