Cardiologists in India have rebutted and called the study irresponsible, a bid to sensationalise
New Delhi:  It seems as if Stent was invented not to treat but to cheat. At least, a study published in the latest edition of Lancet, seems insinuating as much.
The study has taken the world of cardiology by storm and stent practitioners are shell-shocked. Indian interventional cardiologists (heart specialists who use stent for procedure known as angioplasty to open clogged arteries) however have flaunted massive data to disapprove this tornado of a study. They have dubbed it as lop sided and only an attempt to sensationalise.
But this study may rigorously limit the use of stents. One of the accusations made is that stents are being overused or used even if not needed for raking in big money. Almost all the cardiac specialists who talked to Medicare News about the study conceded to the allegation of its overuse or misuse.
Lancet, the world's most prestigious medical journal, has published this study that, on the face of it, sounds almost a death knell of already much maligned stent, tiny wire cage, claimed to relieve chest pain. But stent apologists vehemently differed.
Over 5 lakh stents are used annually in India, 60 percent of which are imported and were exorbitant till recently. An imported stent would cost up to one and a half lakh. But after Indian government's price capping, the stent prices have substantially gone down.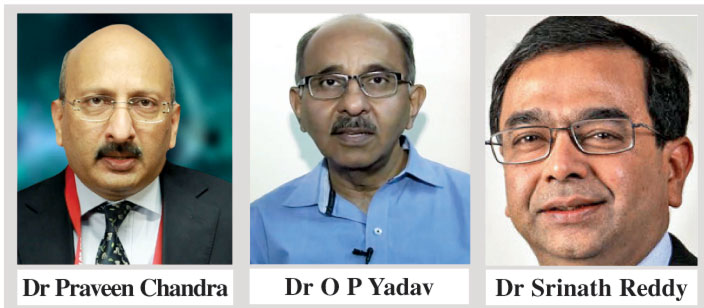 Dr Praveen Chandra, Chairman, Interventional Cardiology at Medanta, snubbed this study as a tunnel vision. Talking to Medicare News, Dr Chandra, who claimed to have done about 10, 000 of stent procedures so far, said, 'It is sensationalism at its best. The study was done on a meagre size of only 200 patients. More, the subjects each had blockage only in one artery and they were assessed only after just six weeks. The trial is skewed and has far exceeded its brief. How did they know that conclusions also applied on people with more severe heart diseases? I have clinically observed thousands of patients who benefitted greatly from stenting. It cannot rubbish decades of clinical experience.'
Dr O P Yadav, CEO, National Heart Institute and a renowned Cardiac Surgeon, said, 'The Lancet study is being grossly misinterpreted. It is being concluded from this study that stents have been dubbed entirely useless. The study does not conclude so. I vouch for the fact that stents are proving very useful in treating severe heart patients. Yes, I acquiesce in a sober fact that stents are being misused with impunity. Stenting is not needed in patients with stable coronary artery disease where only medicines would suffice. It is this category of patients where stents are being unnecessarily used, which should stop forthwith.'
Dr Srinath Reddy, former head of the department of Cardiology, All India Institute of Medical Sciences (AIIMS) and currently chairman of Public Health Foundation of India (PHFI), said, 'Overuse of stents need to be discouraged and they should be reserved for specific indications like acute coronary syndromes. All health technologies need to be critically evaluated through sound research, for estimating their benefits in different clinical situations so that inappropriate use can be avoided. This well designed clinical trial shows that coronary stents do not confer benefit in exercise capacity measured at 6 weeks after the stenting, when compared to a sham procedure.'
For the study, Dr. Justin E. Davies, a cardiologist at Imperial College London, and his colleagues recruited 200 patients with a profoundly blocked coronary artery and chest pain severe enough to limit physical activity, common reasons for inserting a stent. And, they came up with a conclusion that rattled the stent specialists all over the world.
The study has equally surprised and stunned cardiologists abroad. 'It's a very humbling study for someone who puts in stents,' said Dr. Brahmajee K. Nallamothu, an interventional cardiologist at the University of Michigan. 'Unbelievable' was the word that was exclaimed by Dr. William E. Boden, a cardiologist and professor of medicine at Boston University School of Medicine. In the editorial published with the study, Dr. David L. Brown of Washington University School of Medicine and Dr. Rita F. Redberg of the University of California, San Francisco, have demanded revision of all cardiology guidelines.
'It was impressive how negative it was,' Dr. Redberg said of the new study. Since the procedure carries some risks, including death, stents should be used only for people who are having heart attacks,' she added.
Stents came into wide use in the 1990s and became the treatment of choice because they were less invasive than bypass surgery. A famous quip of the time was – 'With stent around, bypass can be bypassed' which would irk heart surgeons. A decade ago, one another large study had found that stents did not prevent heart attacks or deaths from heart disease.
However, stent is being used to relieve chest pain in lakhs of patients every year. The study insinuates that it is useless for many of them. Stents are life saving when applied to open blocked arteries in patients in the throes of a heart attack. Stenting is one of the mainstays of earning for hospitals and doctors in India. Several companies namely Boston Scientific, Medtronic and Abbott Laboratories are minting money by selling them.
This study especially needs to be evaluated for India as a largest ever study of deaths have shown that heart ailments have replaced communicable diseases as the biggest killer in both rural and urban India.